Ultimate Concrete Coatings
Stamped Concrete Overlays
Boring grey concrete works for public sidewalks, BUT your yard should look exactly like you want it to! When you choose stamped overlay concrete, your new backyard will have a rich, custom feel that guests will love. Since we know you want your investment to last and always look great, we use two coats of sealer on every job. When your concrete is easy to clean and looks awesome, you will wonder why you didn't do this sooner!
You have a variety of options to choose from to match your style. Ultimate Concrete Coatings offers granite, slate, and flagstone stamped or hand troweled textures concrete overlays. Every floor starts out with a seamless continuous texture. You also have the option of a grouted pattern (i.e., random stone, ashlars, cobblestone, river rock, brick, tile, etc.).
Once you have selected the perfect stamped overlay color and texture.
Our installers will draw the pattern on the floor and then cut the grout lines in either quarter or half-inch width.   The grout lines are filled with real grout and then the coloring process begins. Colors that were previously selected with our designer are layered on by hand with the customer having the option to preview the colors and lighten or darken the amount of each color.  The layering of colors creates a natural stone appearance and depth. All of our textured coatings have two coats of abrasion-resistant sealer with nonskid that produces a tough, easy-to-clean surface.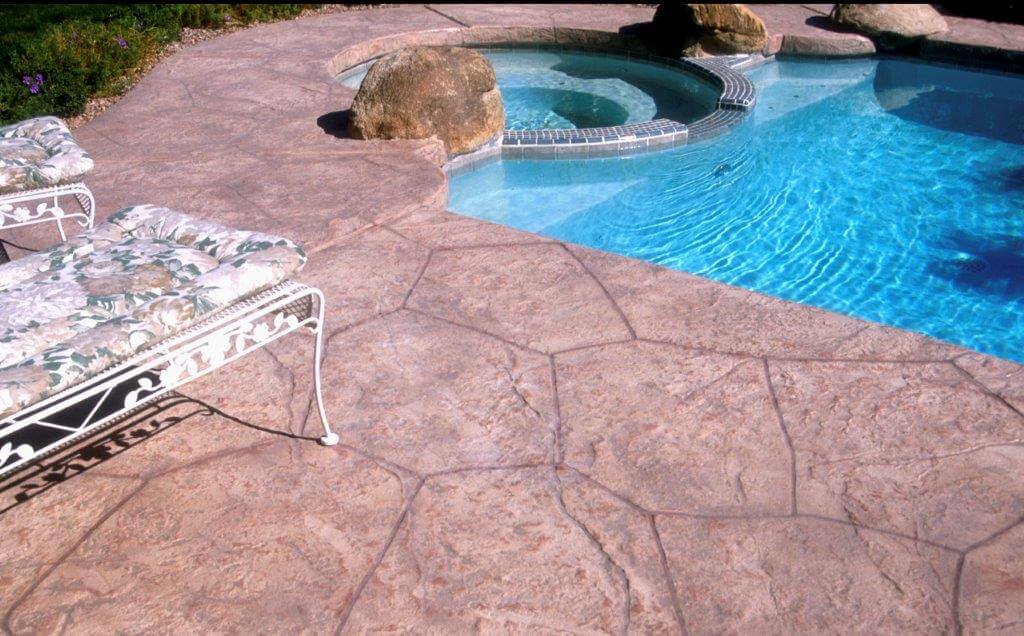 Ultimate Concrete Coatings
No matter the size of your concrete surface area, Ultimate Concrete Coatings can deliver the perfect resurfacing solution for you!
Call us today for a free in-home estimate. Our professional staff will work with you to choose the right service, then design your space so you can sit back and relax while we transform your outdoor living area.