Ultimate Concrete Coatings
Concrete Resurfacing, Stamped Concrete Coatings, Cool Deck Repair, & Patio Concrete Coatings
Don't Replace. Resurface!
Did your new dream home came with boring patio flooring? Or maybe your old concrete driveway has seen better days. Is your garage floor covered in stains? Don't forget about the cracks that are starting to show up on your pool decking.
You DON'T have to remove the concrete and start over. Instead, let Ultimate Concrete Coatings bring new life to all of the concrete surfaces outside and inside your home.
Concrete coating is affordable, durable, versatile and beautiful and it works for any concrete, anywhere. Ultimate Concrete Coatings services specializes in refinishing and resurfacing the concrete that's around your home or place of business.
Can Concrete Be Beautiful? Of Course It Can!
Just because it's affordable and practical, doesn't mean it can't be beautiful, too. Ultimate Concrete Coatings offers a wide variety of techniques and services dedicated to making your concrete surface a reflection of your overall home, décor preferences and unique lifestyle.
Every project is completely customized to each, individual client's wants and needs, balancing beauty with practicality.
Our services include:
Decorative stamped concrete overlays
Epoxy coatings including solid, multi-colored and metallic options
Hand trowel textures
Natural stone-like finishes such as granite, slate and flagstone
Surface coatings comparable to Kool Deck, which keep your outside areas barefoot friendly in the hot Arizona sun
Where We Can Help
Wherever you have concrete, Ultimate Concrete Coatings can provide resurfacing services that will not only impress but improve the value of your home. Every day we bring new life to:
Driveways
Garage floors
Home, office and commercial entryways
Patios and recreational areas
Pool surrounds
Walkways and paths
And more!
Our Customers
If you have concrete, we can help you! Commercial and residential and spaces of all sizes – we do it all!
Homeowners
Property management companies
Apartment communities and condo developments
Residential landlords and tenants
Light commercial business premises
Professional buildings
Industrial units (primarily reception areas)
The Concrete Coating Experts
With more than 12 years of experience, Ultimate Concrete Coatings is the Valley expert in concrete resurfacing. We are committed to doing the job right the first time, every time, and all of our jobs come with a lifetime warrantee.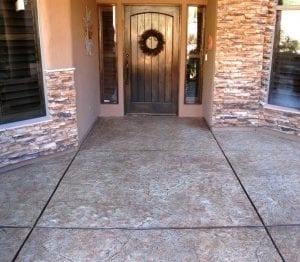 No matter the size of your space or budget, Ultimate Concrete Coatings can provide the perfect concrete resurfacing solution for you!
Call us today for a free in-home estimate. Our professional staff will work with you to choose and customize the right service, then you can sit back and relax while we transform your concrete flooring.