Ultimate Concrete Coatings
Epoxy flooring is the
flooring

solution you've been looking for to bring new life to your patio or garage flooring!
Practical Can Be Beautiful
There is no part of your home that doesn't deserve great flooring. But some places are harder than others to make both beautiful and practical. High traffic areas are these kinds of places.  You want the surface to be safe. You also want it to be easy to clean and maintain.  And, of course, you want it to look good. Our concrete coatings can make it all happen.
Epoxy Flooring Contractor in Phoenix
Epoxy flooring is affordable, long-lasting and offers a wide range of colors and designs, making it the perfect option for almost any setting, including garages, pool decks and patios.
Our epoxy flooring is made of an incredibly strong polymer that goes on as a liquid. This strength means that the floors are ideal for high traffic areas – indoors or outdoors. Epoxy application is fast and less expensive than other flooring options with a beautiful finish that requires minimal maintenance for years to come.
Epoxy Flooring Phoenix Experts
Ultimate Concrete Coatings specializes in creating epoxy floors custom designed for each, individual customer's needs and usage. Whether poolside, on the patio, in the garage or even inside a home, epoxy floors are perfect for any setting providing a beautiful, slip-resistant, easy to clean, long lasting surface to compliment your home design and fit in perfectly with your family's lifestyle.
We use industrial-grade epoxy for floors that are safe and durable.  But that doesn't mean they can't be beautiful, too! Your epoxy floors can be a solid color, a blend of colors and feature custom designs like granite and quartz to reflect the unique personality of your home. We even offer new metallic epoxy finishes with pearlescent reflective mica chip flakes.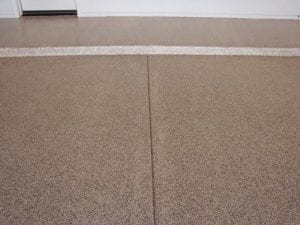 No matter the size of your concrete surface area, Ultimate Concrete Coatings can deliver the perfect resurfacing solution for you!
Call us today for a free in-home estimate. Our professional staff will work with you to choose the right service, then design your space so you can sit back and relax while we transform your outdoor living area.