Ultimate Concrete Coatings
Stamped Concrete Coatings Contractor in Phoenix
Stamped Concrete Overlays are the affordable option for concrete flooring in all of your outdoor areas.
In Phoenix, our outdoor areas are year-round extensions of our homes. Family gatherings, social events and almost every aspect of life take place in yards, on patios and in pools. You want all of your outdoor spaces to not only impress but to truly reflect the unique personality of your family and home. But plain concrete seems so dull and specialty stone can be expensive and high maintenance.  That's why Ultimate Concrete Coatings invites you to explore our stamped concrete flooring options.
​
Phoenix Stamped Concrete Coatings and Overlays
​Ultimate Concrete Coatings offers a huge range of stamped concrete colors, patterns and textures and we specialize in custom designing solutions for each, individual customer's needs and lifestyle. We are committed to delivering flooring that will seamlessly compliment your home and landscaping design and support the activities that are going to play out there for years to come. 
Every floor begins as a seamless, continuous stamped texture, then the custom-designed patterns are drawn and the grouting is cut by hand.  Colors are also layered on by hand to perfectly match the customer's expectations. These stamped concrete creations are perfect for any space – from delicate, winding footpaths, to broad, sleek expanses of patio.
A Designer Look That Lasts
In addition to beauty, stamped concrete is durable and stands up to the rigors of high-traffic. All of our textured coatings have two coats of abrasion-resistant sealer with a non-skid feature that produces a tough, easy to clean surface.  Plus, any project installed by our professional licensed stamped concrete patio contractors comes with a lifetime warranty, giving you the peace of mind you need to stop worrying about your outdoor flooring and start living on it.
Stamped concrete flooring is the perfect solution to beautify these areas and more:
Driveways
Courtyards
Entryways
Pool decks
Reception areas
Patios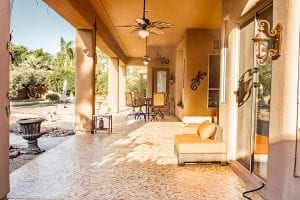 No matter the size of your outdoor space or budget, Ultimate Concrete Coatings can design and install the stamped concrete overlay flooring for you!
Call us today for a free in-home estimate. Our professional staff will work with you to choose the right service, then design your space so you can sit back and relax while we transform your outdoor living areas.