Ultimate Concrete Coatings Chandler
Stamped Concrete and Epoxy Flooring Contractor in Chandler
Chandler Epoxy Garage Flooring, Stamped Concrete, Pool decking, and patio resurfacing
The Sun Takes Its Toll on Your Pool Decking
In Chandler, pools are must have for family fun and a relief from the summer heat. The surfaces surrounding your pool need to be able to take the heat by simultaneously maintaining their beauty and saving your feet from the high temperatures.  At Ultimate Concrete Coatings, we understand summer in Chandler. Our pool resurfacing products are designed to be safe, durable and cooling.
If you've been enjoying your pool for many years, your pool decking might be showing damage from the sun, like unsightly fading, cracks and gaps that just get worse as time goes on. We can repair your cool decking, too, making it look as good as new.
Concrete Coatings in Chandler
Most pool owners have heard of Kool Deck. Kool Deck is the brand offered by the company Mortex. The product significantly lowers the latent temperature of concrete surfaces, but it can only be applied when the original concrete is poured. It cannot be applied in a resurfacing or deck repair or remodel situation.
Our Chandler Concrete Coating Services team use products that are entirely comparable to Kool Deck but are designed to be a part of a repair process. We've used these products and our time-tested process on more than 4,000 pool decks. And, we offer an unconditional, 100% satisfaction guarantee on every cool deck repair, and it remains in force for as long as you own the property, no matter how many years that may be.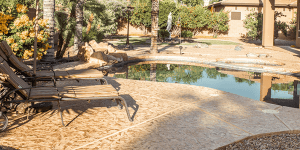 No matter the size of your pool area or budget, Ultimate Concrete Coatings can deliver the perfect pool resurfacing solution for you!
Call us today for a free in-home estimate. Our professional staff will work with you to choose the right service, then design your space so you can sit back and relax while we transform your pool area.