Ultimate Concrete Coatings Scottsdale
Stamped Concrete and Epoxy Flooring Contractor in Scottsdale
Scottsdale epoxy garage flooring, stamped concrete, pool decking, and patio resurfacing
Life Lived Outdoors
The Scottsdale life is all about the pool and the patio. Pool parties, barbeques, family gatherings and social events are a staple. In fact, your pool and patio areas might be the parts of your home that get the most use – and you want yours to look great. Unfortunately the Arizona sun can take a toll on your pool decking and patio flooring resulting in unsightly cracks, stains and flakes.
Pool Deck Resurfacing and Cool Deck Installation
Ultimate Concrete Coatings can help repair and enhance your patio area! Our Scottsdale concrete coating services team specialize in custom designing patio solutions for each, individual customer's needs. Ultimate Coatings offer a variety of services that can make your patio as unique as you and your family.
Concrete stain, texture and resurfacing
Stamped concrete patio finishes
Concrete overlays that cover old, unsightly or inadequate substrates
Spa-Like Pools
Bring spa-like design to your Scottdale backyard pool with Ultimate Concrete Coatings pool resurfacing services. With as much time as your family spends around the pool, it just makes sense that your pool area should be an extension of your home, reflecting your indoor décor and supporting your family's lifestyle. We specialize in providing custom pool resurfacing services designed for the unique needs of each, individual customer. We evaluate the size of your pool, the active area around it, traffic patterns and specific usage to deliver the perfect pool resurfacing for every customer.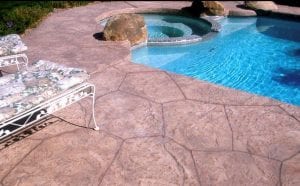 No matter the size of your pool and patio area or budget, Ultimate Concrete Coatings can deliver the perfect pool resurfacing solution for you!
Call us today for a free in-home estimate. Our professional staff will work with you to choose the right service, then design your space so you can sit back and relax while we transform your outdoor living area.