Ultimate Concrete Coatings
Decorative Concrete Coatings
A decorative concrete patio makes an impression. It makes the most out of your outdoor space. And, most importantly, makes memories. A picture-perfect patio does more than just impress the neighbors. It can also improve the resale value of your home.  And because decorative concrete is less expensive than other flooring types, your investment goes a long way.
Functional and Beautiful Patio Concrete Coatings
Concrete is known for its durability and affordability. But just because it's functional, doesn't that that it can't also be beautiful. And just because the patio is outdoors, doesn't mean it's not part of the house. Your outdoor space is an extension of your home and the quality and design should reflect the unique personality of you and your family. 
At Ultimate Concrete Coatings, we specialize in custom designing patio solutions to each, individual customer's specifications. The design options are endless: solid colored or multi-colored, unique patterns, and designs made to look like expensive and more high-maintenance flooring types.
Decorative concrete is design that lasts. The coatings are made to stand up to the high temperatures of the Arizona summer, keeping that just poured brilliance for years to come, while, at the same time, keeping the decorative concrete flooring cool enough for bare feet.
Ultimate Concrete Coatings can upgrade the flooring in your outdoor space to be affordable, durable and versatile with our decorative concrete refinishing services that include:
Various epoxy coating finishes
Reseal and restoration treatments in countless colors and textures
Surface temperature abatement materials
Stamped overlays/stamped concrete coatings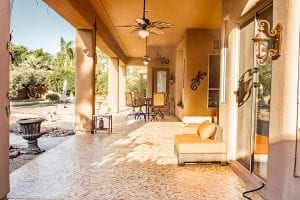 No matter the size of your outdoor space or budget, Ultimate Concrete Coatings can design and install the perfect decorative concrete flooring for you!
Call us today for a free in-home estimate. Our professional staff will work with you to choose from a wide range of decorative concrete ideas and design your space so you can sit back and relax while we transform your outdoor living areas.