Ultimate Concrete Coatings Mesa
Epoxy Garage Flooring in Mesa
Mesa Epoxy Garage Flooring Contractor!
Have stains, cracks and other signs of wear and tear on the garage floor of you home in Mesa got you down? Now, you can take pride in your garage, just like you take pride in your car with a new, beautiful epoxy garage floor. Our Mesa epoxy garage flooring team specializes in the application of garage floor epoxy and each job is custom designed for each individual customer's home and lifestyle. Your concrete garage floor can be coated with an epoxy that is a solid color or a blend of colors. We even offer new metallic epoxy finishes with pearlescent reflective mica chip flakes.
Epoxy Flooring Contractor in Mesa
Once you have your new epoxy garage floor, you want to keep it looking great, right? That's the magic of epoxy floors! Epoxy is a thermosetting resin. When applied to concrete, it becomes a non-porous surface resilient to chemical stains, chipping, impact and surface abrasions. An epoxy garage floor is also resistant to slippage, the extreme Phoenix heat, heavy impact and even fire. Garage flooring with an epoxy coating is safe, easy to clean, and that shiny, just-poured brilliance lasts for years to come.
Concrete Solutions – More Than Just Epoxy. If you look around your Mesa home, you'll notice that you have concrete surfaces everywhere! That's because it's affordable and practical. But that doesn't mean it can't be beautiful, too. Ultimate Concrete Coatings offers a wide variety of techniques and services dedicated to making your concrete surface a reflection of your overall home, décor preferences and unique lifestyle.
Every project is completely customized to each, individual client's wants and needs, balancing beauty with practicality.
Our services include:
Decorative stamped concrete overlays

Epoxy coatings including solid, multi-colored and metallic options

Hand trowel textures

Natural stone-like finishes such as granite, slate and flagstone

Surface coatings comparable to Kool Deck, which keep your outside areas barefoot friendly in the hot Arizona sun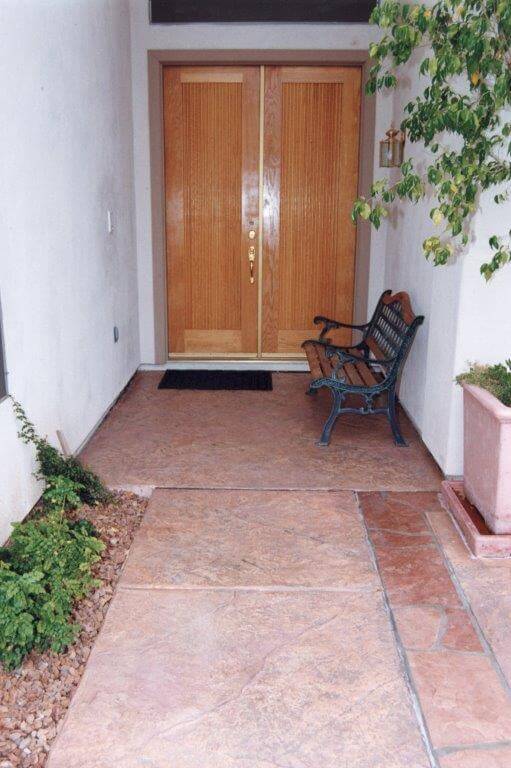 No matter the size of your space or budget, Ultimate Concrete Coatings can transform your concrete surface!
Call us today for a free in-home estimate. Our professional staff will work with you to choose the right service, then you can sit back and relax while we transform your concrete.