Ultimate Concrete Coatings
Patio Concrete Coatings, Stamped Concrete, Cool Deck Installation, & Epoxy Flooring in Phoenix
Watching the sun rise and watching it set. Sipping coffee and eating barbeque. With family, with neighbors and with friends. In Phoenix, your patio is a part of your house that's continually in use. You take great care to choose the right grill, the most comfortable furniture and the perfect décor.  Shouldn't the same attention be paid to your patio flooring?
Phoenix Patio Concrete Resurfacing Contractor
Did your new dream home come with a nightmare of a patio floor? Or maybe you're ready to upgrade the patio flooring you've had for years. Have you been living with a patio floor made of dull, dirty, cracked, ugly concrete for far too long?
No matter what your situation, Ultimate Concrete Coatings can help! We specialize in custom designing stamped concrete patio solutions for each, individual customer's needs and lifestyle and offer a variety of services that can make your patio that's as unique as you and your family.
Concrete stain, texture and resurfacing
Stamped concrete patio finishes
Concrete overlays that cover old, unsightly or inadequate substrates
The Heat Is On
With temperatures averaging over 100 degrees more than 100 days annually, there's a reason they call Phoenix the Valley of the Sun. That sun takes a toll on our outdoor spaces – like our patios. You need patio flooring that can take the heat, maintaining its beauty and saving your feet during the long, Arizona summers.  At Ultimate Concrete Coatings, we understand Arizona and our products and services are designed to be safe, durable and cooling.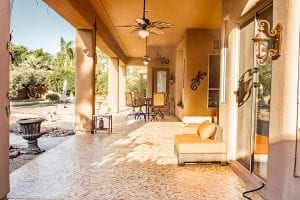 No matter the size of your outdoor space or budget, Ultimate Concrete Coatings can design and install the perfect patio flooring for you!
Call us today for a free in-home estimate. Our professional staff will work with you to choose the right style, then design your space so you can sit back and relax while we transform your patio flooring.