Ultimate Concrete Coatings
Pool resurfacing will give your pool new life!
The Heat Is On
In Phoenix, pools are as common as garages. And with temperatures averaging over 100 degrees more than 100 days annually, there's a reason they call Phoenix the Valley of the Sun. This is why we mastered pool deck resurfacing in Arizona
The surfaces surrounding your pool need to be able to take the heat by simultaneously maintaining their beauty and saving your feet during the long, Arizona summers. At Ultimate Concrete Coatings, we understand Arizona and our pool resurfacing products are designed to be safe, durable and cooling. 
A Pool Area as Unique as You Are
Concrete Pool Resurfacing
At Ultimate Concrete Coatings, we specialize in providing custom pool deck resurfacing services. Each resurfacing is designed for the unique needs of each, individual customer. In Phoenix, it's not uncommon to spend as much time around the pool as you do in the house. It just makes sense that your pool area should be an extension of your home while reflecting your family's lifestyle. We evaluate the size of your pool, the active area around it, traffic patterns and specific usage to deliver the perfect pool resurfacing for every customer.
Kool Deck vs. Cool Deck:
Most pool owners have heard of Kool Deck. Kool Deck is the brand offered by the company Mortex. The product significantly lowers the latent temperature of concrete surfaces, but it can only be applied when the original concrete is poured. It cannot be applied in a resurfacing or deck repair or remodel situation.
That's why at Ultimate Concrete Coatings, we specializes in Cool Deck repair for pools and patios. Using a high-tech tool called acrylic lace, we can provide a pool-side concrete surface that's barefoot friendly all year round.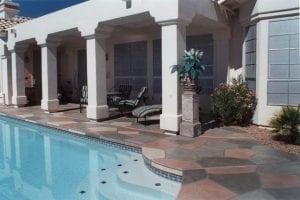 Before and After Pool Concrete Resurfacing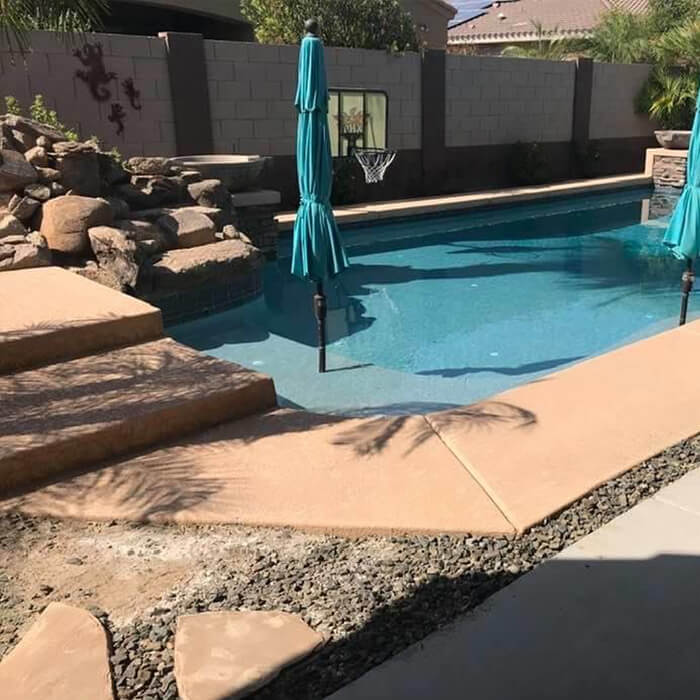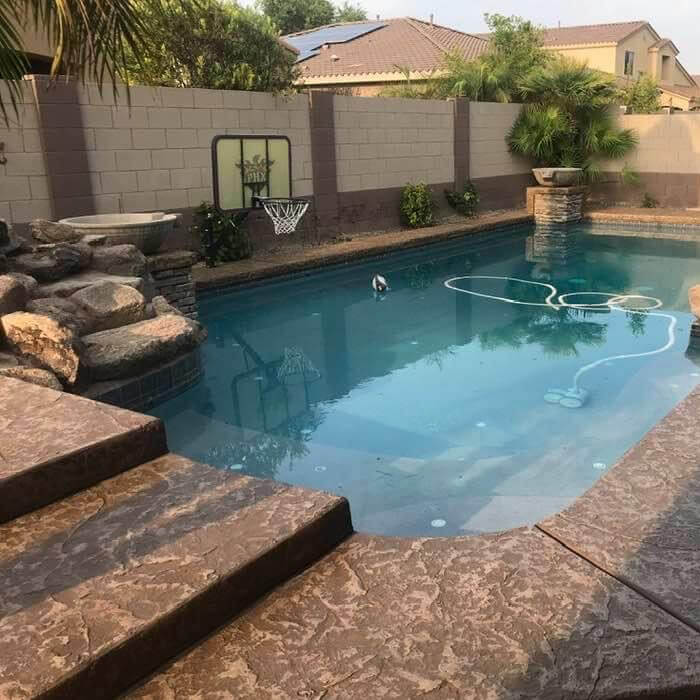 No matter the size of your pool area or budget, Ultimate Concrete Coatings can deliver the perfect pool resurfacing solution for you!
Call us today for a free in-home estimate. Our professional staff will work with you to choose the right service, then design your space so you can sit back and relax while we transform your pool area.