Types of Epoxy Concrete Coatings
In the past, any type of flooring project required blood, sweat, tears, and in some cases, frustration. One of the latest trends in flooring is out to change all of that. Epoxy flooring is long-lasting, durable, and easy to apply. No more measuring, cutting, remeasuring and buying more materials to make up for your mistakes. Epoxy flooring and stamped concrete are two options that can be used in almost any setting, including garage floors and pool decking.
What Is Epoxy Flooring?
Epoxy flooring is made of an incredibly strong polymer that goes on as a liquid, can be either clear or have color, and provides a strong, durable finish that can withstand almost any type of activity. It can be used indoors in your garage or outside on your cement patio or pool decking. No matter where you use it, it will look great without a lot of extra work, all you need to do to keep up the quality is a yearly resealing. Whether you choose to apply it yourself or have a professional do it, the results are amazing!
What is best for Garage Floors and Pool Decking?
Garage floors and pool decking are just two areas where the epoxy flooring will really make a difference in how your home looks as well as its potential resale value. Epoxy flooring and stamped concrete go hand in hand because of their resistance to moisture and staining. Your garage floor must withstand both tire traffic as well as foot traffic and also be resistant to any chemicals of liquids that may be associated with your vehicle.
When it comes to your pool decking, the constant exposure to water can cause other materials to degrade faster than normal, even if they are sealed every few months. Chlorine and other pool chemicals can also cause stains and discolorations that will detract from the appearance of your decking. Our stamped epoxy coatings created for pool areas are resistant to both stains and water damage, making them the perfect choice if you are ready to restore or renovate your decking area.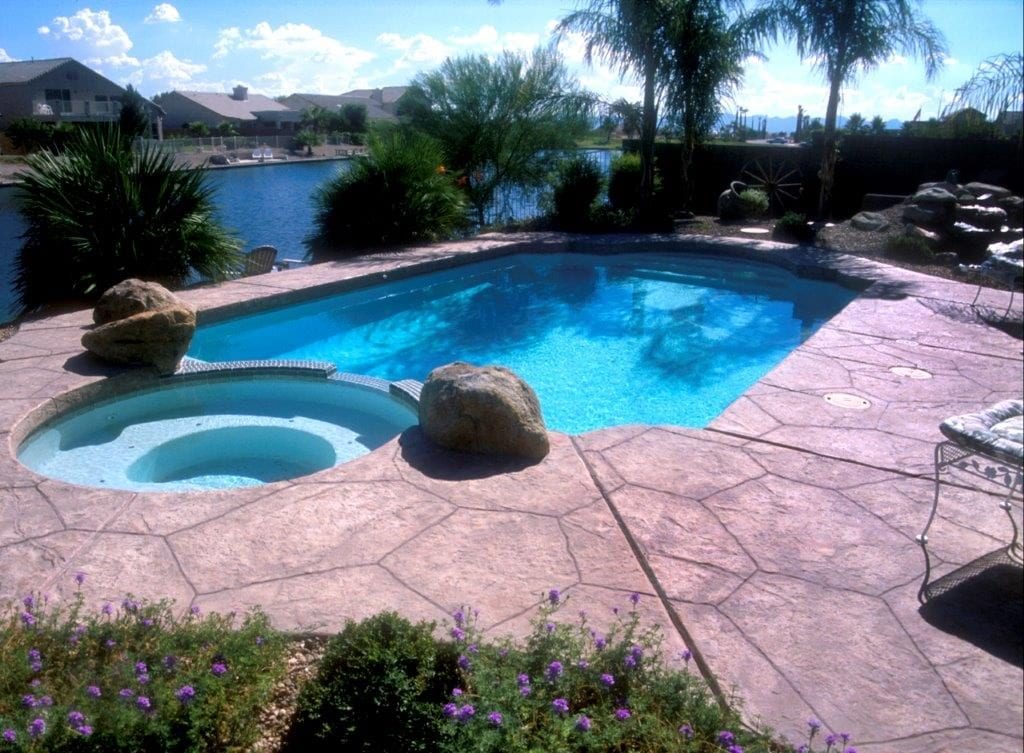 The Benefits of an Ultimate Epoxy Coated Floor or Pool Decking
Aside from the fact that epoxy coatings always look pristine, they also last for years. When applied properly, the surface shine (or matte) finish can last for several years with minimal maintenance or upkeep. A good cleaning every few months is all the epoxy coating really needs to look its best. Another benefit is that it is cost-effective. When compared to other materials and paints that could be used on your garage floor or pool deck, the cost of epoxy offers a dramatic contrast.
Epoxy flooring is an ideal choice for both residential homes and commercial properties. Color and textures can be added for a simple, inexpensive project, or we can create custom designs for  you. For garage flooring or commercial floors, sand and bits of colored material are added to create a textured appearance. Whether clear, colored, or textured, your flooring will be as resilient and beautiful as ever. When used inside you can clean it with a damp mop. For pool deckings and other uses, it can be rinsed off with a garden hose and look as good as the day it was applied (But don't forget to add the yearly resealer, otherwise the sun and heat will eventually break down the color and texture)
Epoxy coating and stamped concrete offer a wide variety of options and applications for both your home and your business.
It's easy to apply and a large area can be completed in a short amount of time. If you are debating on re-doing your garage floor or pool decking, epoxy coating is the ideal flooring material for either location. Talk to your local flooring professional to find out what benefits you will receive if you choose to use the epoxy coating on your garage floor or pool decking. Call for your free estimate today!