Phoenix area homeowners love epoxy flooring installation for their garages. The most significant advantage is easy maintenance, but you will also love the way it looks! While your garage is probably not always the most common place to hang out, many of us (especially rental property owners and 2nd home winter visitors) want a floor that is attractive and easy to keep clean. Choosing epoxy flooring in your garage provides several benefits.
The benefits of epoxy coatings are endless! You can choose the look of granite or quartz, and even blend colors. If there are any blemishes or odd issues on your garage floor, mixing colors can hide these areas. Another benefit to using custom colors is the ease with which you can employ design elements. For example, shelves or tool storage bins can be matched to the epoxy colors.
Epoxy is Easy Maintenance
Whether your garage is a place you spend a lot of time or is just used for parking the car, you still benefit from flooring that is easier to clean. Epoxy installed on any type of floor makes sweeping or vacuuming debris much simpler and you can mop the entire surface. (Alert: before washing, check that the cleaner you want to use is safe for the type of epoxy used on your floor.).
Winter Visitors and Spring Training Fans really appreciate this aspect since it means less work, and more time for fun when they decide to spend time at their "Arizona winter home". Rental Property owners will also have less to deal with during the move-in/move out process.
These Coatings Add Color and Style
In Arizona, our garages are often a big part of our homes. This means that your garage may be the first place a person sees when they visit your home. Because of this, we see many people who choose to make their garage into a living space — a place to go for quiet or to build your projects and enjoy your hobbies. Installing epoxy flooring in your garage is the perfect solution for creating that perfect look and a comfortable feeling in your garage.
Get Rid of Ugly Garage Concrete with proper installation
If your home is new, you may not have had issues with your concrete cracking, becoming uneven or stained from use, but it eventually will. Depending on how your family uses their driveway and garage, the cracking and oil marks could happen sooner than expectations. And now that Phoenix is getting filled with older homes, the foundation has likely settled, which causes concrete to heave or crack.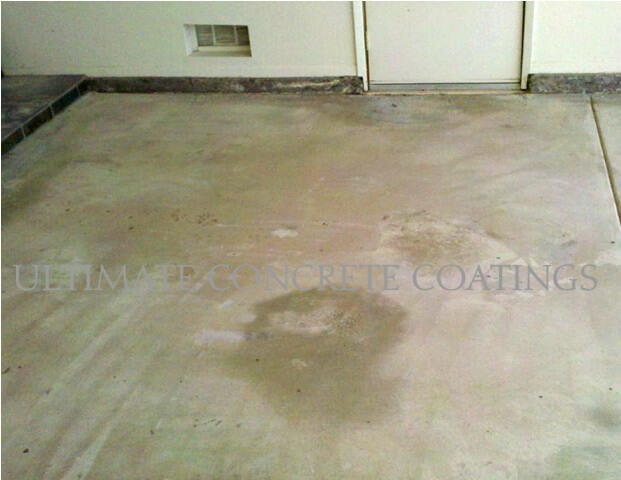 It takes a true concrete coating contractor to properly fix the cracks. Professional installers (in lieu of handymen or non licensed epoxy companies) will save you the time and energy it takes to find the correct materials, and they know how to mix the proper industrial grade products and prepare them for application. These type of companies purchase expensive, specialty machines to repair cracks (first step of process), and will make your garage floor level and beautiful again.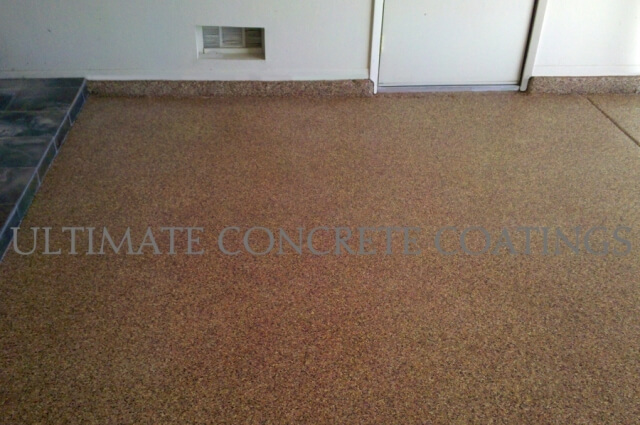 In addition, one of the most skipped phases of the installation process, and is the most important – is the preparation in ADVANCE of laying down the epoxy. This is the part in which our professionally trained installers need to review each part of the floor and fill or fix every area we see that will be problematic long-term
What exactly is epoxy and why is the product chosen for garage floors?
One major benefit of epoxy is that it's a thermosetting resin. When correctly applied to concrete it becomes a non-porous surface which is resilient to chemical stains, chipping, impacts and surface abrasion. Epoxy flooring installation for garages is: SafeLow maintenanceChemically resistantDamage resistantEconomical
Epoxy makes your garage floor resistant to slippage, the drastic Phoenix temperatures, impact and even fire. It is not just a surface application, the surface pores on the concrete are opened so the coating can percolate into the concrete and create a permanent bond that resists peeling and chipping.
If you have questions about epoxy flooring installation for your garage or would like a free home estimate, call Ultimate Concrete Coatings at (480) 298-7115. We understand our local climate, know how demanding conditions in Phoenix can be and which products hold up under those demands.
As a registered contractor with the Arizona State Board, Ultimate Concrete Coatings provides homeowners, condos and commercial spaces with outdoor and indoor floor services. Our floor surfaces can improve your entryway, driveway, patio floor, pool areas, garage floors. Contact us with questions or to schedule an epoxy flooring installation for your garage.