Ultimate Concrete Coatings
Pool Deck Repairs & Resurfacing in Phoenix
Time for Pool Deck Repair?
Fun in the sun can be a bit more challenging in Phoenix. With temperatures averaging over 100 degrees more than 100 days annually, there's a reason they call this the Valley of the Sun. Pools are common place here and offer a welcome respite from the long summers, but the sun can damage your pool decking, resulting in unsightly fading, cracks and gaps that just get worse as time goes on. Let Ultimate Concrete Coatings repair your pool deck so that it's not only comfortable, but durable and beautiful, too.
Phoenix Cool Deck Coatings Contractor
Most pool owners have heard of Kool Deck. Kool Deck is the brand offered by the company Mortex. The product significantly lowers the latent temperature of concrete surfaces, but it can only be applied when the original concrete is poured. It cannot be applied in a resurfacing or deck repair situation.
At Ultimate Concrete Coatings, we use products that are entirely comparable to Kool Deck but are designed to be a part of a repair process. These products are not available to the general public and cannot be bought at home improvement warehouse stores. Kits sold at such locations are inferior in terms of quality and application process and cannot be guaranteed.
You might have thought about going the do-it-yourself route with your pool deck repair. At Ultimate Concrete Coatings, we encourage you to leave it to us! We're the pool decking experts and have installed or repaired more than 4,000 pool decks. We offer an unconditional, 100% satisfaction guarantee on every cool deck repair, and it remains in force for as long as you own the property, no matter how many years that may be. You can't get that with DIY.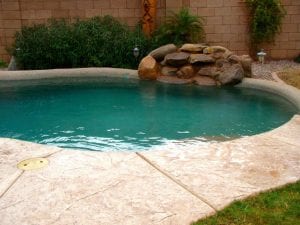 No matter the size of your pool area or budget, Ultimate Concrete Coatings can bring new life to your pool decking!
Call us today for a free in-home estimate. Our professional staff will work with you to choose and customize the right solution, then you can sit back and relax while we transform your pool area.